After a quite a long wait for my Tesla Model 3 TapTes USB hub to arrive, a day later they launched the 'Hub Pro', pretty much the same thing but this time with all ports data enabled (so an actual hub, rather than just a splitter).
TapTes have changed the delivery method again, it's gone from being by train back to being sent via air, meaning this took around 10 days to land from dispatch.
External differences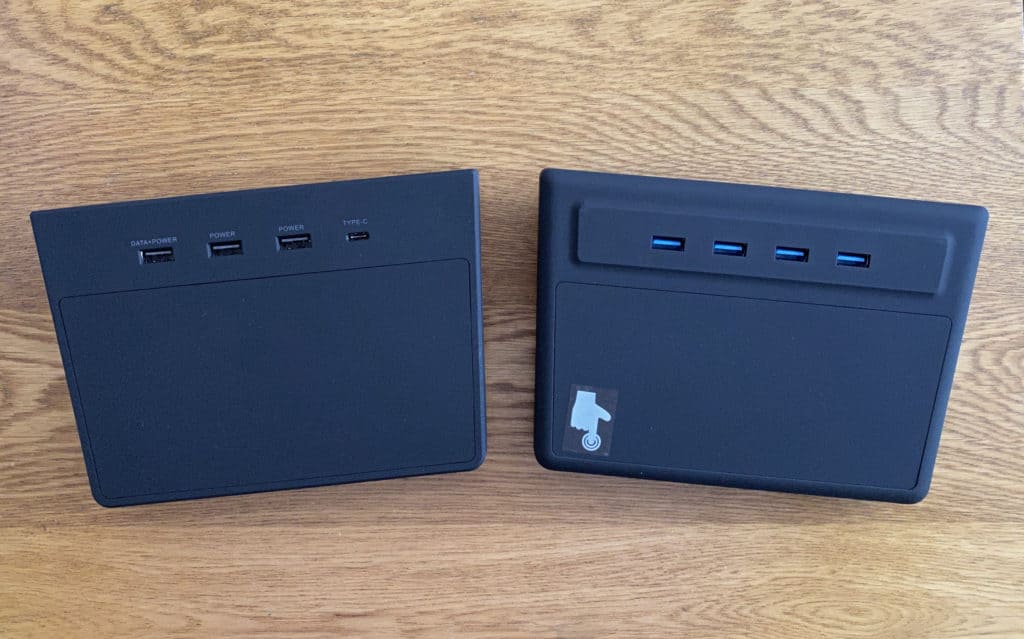 Visually you can see the raised section of the USB area of the Hub Pro and also the smaller door. Both have the same 'soft' material.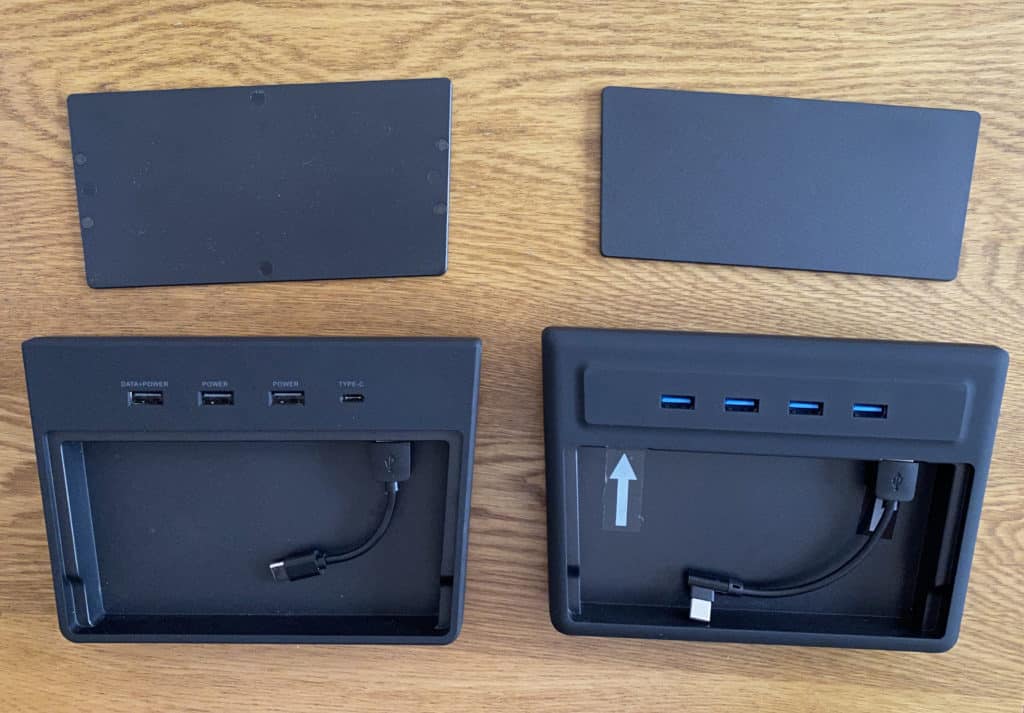 With the covers off (hadn't got round to removing the stickers on the Hub Pro) you can see that the supplied cable in the Hub pro is slightly different, the enclosure is slightly smaller and that there is also a second hidden USB port, I believe the idea being that you might have one for music and one for data, not something I've tried / planning to try.
The enclosure is the same depth in both units, however the Hub Pro is around 6-7mm shorter on both height and width.
Technical differences
The main difference between the two units is that all USB ports on the Hub Pro are data enabled, meaning that this is a true hub, rather than a splitter which is what the original hub is.
The 'standard' hub has 5 USB ports in total, 2 of them data enabled. 4x USB A and 1x USB C
The Hub Pro has 6 USB A ports, all data enabled.
Conclusion
Both hubs make a big difference to tidying up the storage area below, both are made really well and both work as you'd expect them too.
The Hub Pro is in theory a little more advanced in that it's actually a hub, rather than a splitter and it does give you more USB ports to use, at the loss of a USB C port. However, given the low power output of the USB ports, USB C doesn't offer a huge gain in the Model 3 at the moment (unless all your cables are USB C ones!).
It really just comes down to personally preference, if USB C (power only) is essential and only one external data enabled USB A is enough, than the standard hub will be fine, if you need more data enabled connectivity (games controllers are a good example) then the Hub Pro is for you.
The portable SSD's (I'll paste below from the previous post on USB hubs) will still fit both.
How to order
These hubs will only fit pre July 2020 Model 3's with two USB A ports. If you have a car on order, you might want to wait and see what it turns up with first.
Tesla Model 3 Hub
Tesla Model 3 Hub Pro
Storage options for either hub
Portable SSD's that will fit:
Samsung T5
PNY Elite
TCSUNBOW
SD card adaptor and endurance cards that will fit and work with your hub:
SanDisk card reader
Integral 64GB micro SD
SanDisk HIGH ENDURANCE 128gb micro SD
Other relevant posts
Standard TapTes Hub mini review
USB hub options for your Tesla Model 3
What storage to use for your Tesla Model 3 (Dashcam and Sentry mode)