I decided to tidy up the wiring inside the storage section of my Model 3, I ordered the Model 3 TapTes hub and the Jeda USB hubs (Jeda about a month after the TapTes) so I could see which one I liked best. The below also covers off which SSD / storage will work with these hubs.
TapTes vs Jeda
This comparison can sadly only be about the service received from both companies, as after 20+ days without dispatch from Jeda, I've asked them for a refund.
I was fully expecting the TapTes Model 3 hub to take a while to arrive, however it took around 50 days from the point of ordering! TapTes (at least for the moment) are actually sending items via a train journey that goes all the way from China to the UK. I'm told this journey takes 17 days non stop, but on the TapTes journey the cargo has to be unloaded at each check point and go through customs.
To track your TapTes order, don't bother with the link from the email, use a UBI tracker such as: https://track24.net/service/UBI/tracking/ – Just paste in your LB number and see where the item has been. Mine took 44 days on that tracker.
Jeda on the other hand said dispatch would be in around 10 working days. Having chased when 10 days passed, I was told I'd get more information/dispatch notification the following week. That week passed, I chased up again and was told they were hoping to ship in a week and a half. When I ordered it, I was actually expecting it to arrive ahead of the TapTes unit, as they use FedEx / UPS for a 3 day delivery, however the TapTes unit arrived so I've requested a refund as I was fully expecting to get delayed again.
Worth noting that it also takes 2-3 days to get a response to an email, despite Jeda's twitter being active the whole time.
TapTes Hub
The hub is very simple, but actually nicely made. The cover is held in place with magnets, it comes supplied with a stick on magnet to enable you to stick a portable SSD to the back wall of the hub and hold it in place and it also comes with a small USB to USB-C lead to attach your SSD.
One thing to note, is that this is a really a USB splitter, rather than a full on hub, so you are limited to two data ports (inside for storage and far left on the outside), the other three are power only. The Jeda is a proper hub, so supplies power and data to each port.
Having now received the unit, I'm very happy with it. It feels well made, it works really well and looks really neat in place. The Jeda is a proper hub, but I'm not convinced it's worth three times the price and the customer service so far leaves a lot to be desired for what would be considered a more premium product.
This is how it looks open, with SSD installed and closed ready to go in place.
Before
I didn't have huge amounts plugged in, so not a full on rats nest! With the Tesla wireless charger and a portable SSD for Dashcam/Sentry (and an Xbox One controller), I needed a hub, so used the Anker one mentioned on USB hubs for your Tesla Model 3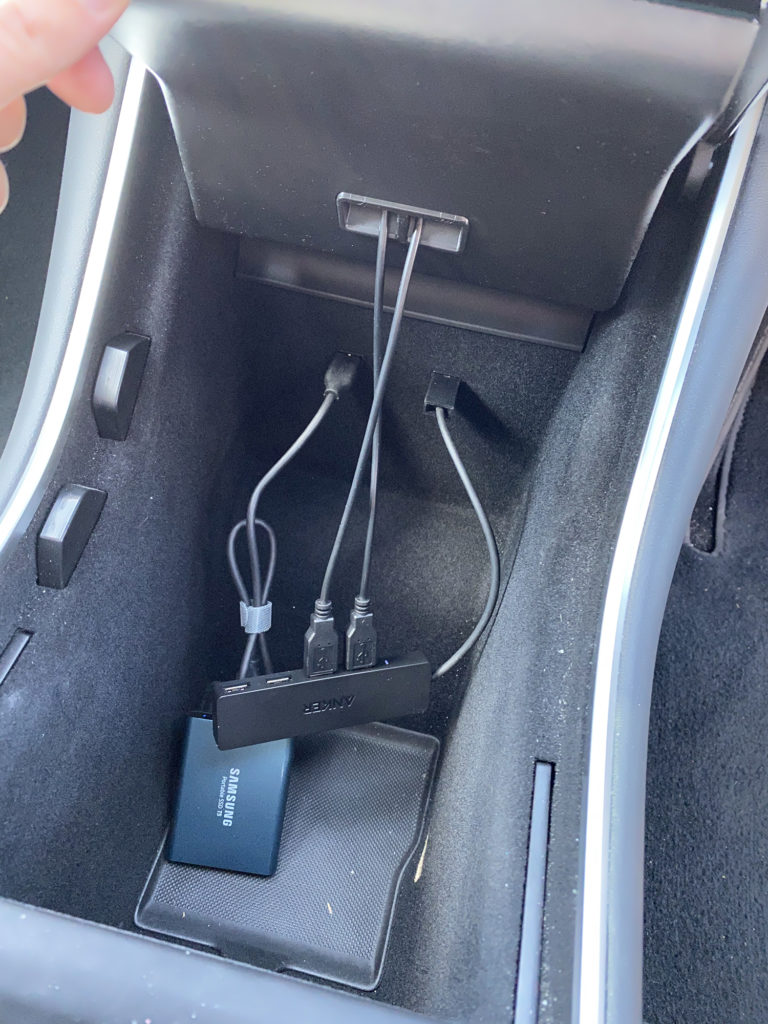 After
With the SSD tucked away inside, things look a lot neater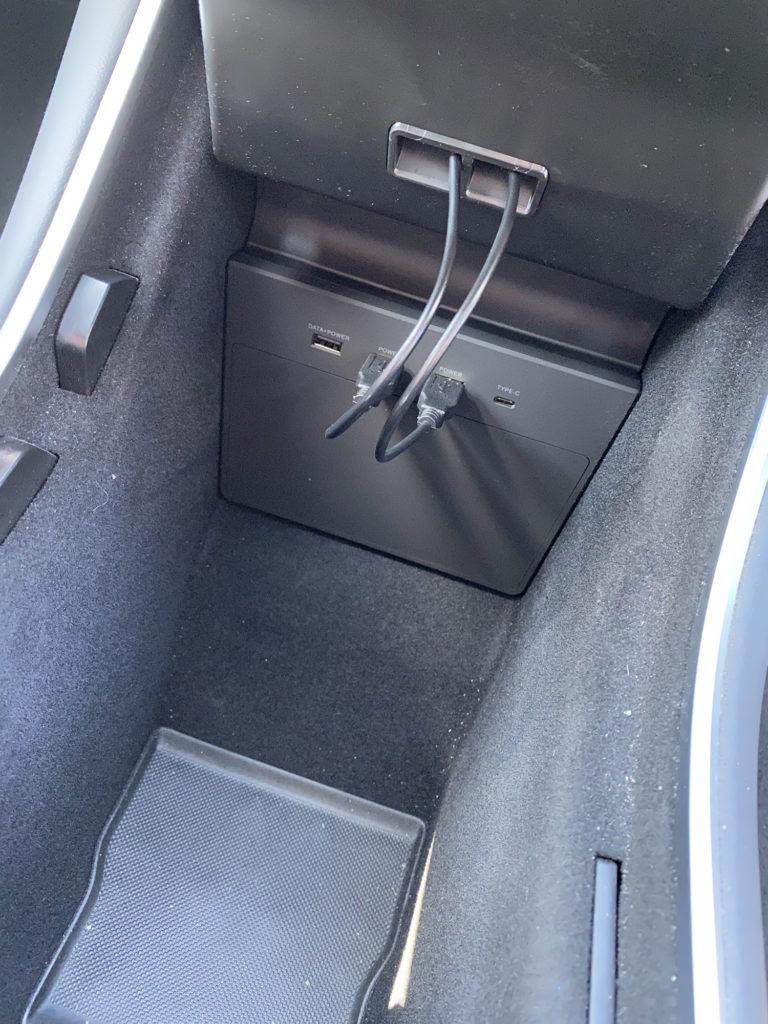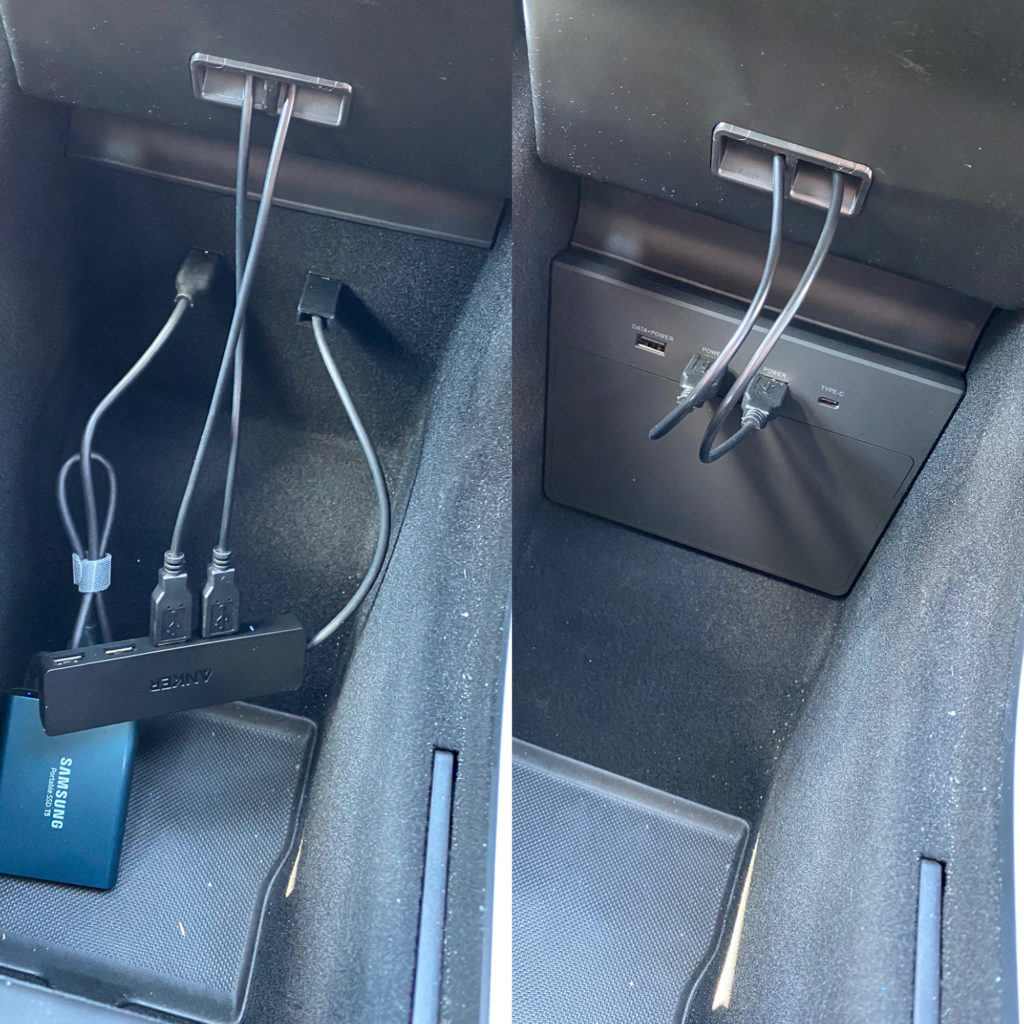 Which storage is compatible with the TapTes USB hub
You have two options to fit inside of the hub, either a portable SSD or an 'endurance' microSD with adaptor.
Portable SSD's that will fit:
Samsung T5
PNY Elite
TCSUNBOW
SD card adaptor and endurance cards that will fit and work with your hub:
SanDisk card reader
Integral 64GB micro SD
SanDisk HIGH ENDURANCE 128gb micro SD

How to order your own hub
If you already have your Model 3 with the two USB-A ports then both of the below will work, if you haven't yet got your Model 3 and it's due soon, don't order yet as there is a possibility that in your new car you'll have 1x USB-A and 1x USB-C as Tesla have started to use the same setup as the Model Y.
TapTes – Model 3 USB hub – Expect slow delivery times at least for now, with the average seeming to be around 50 days to land. TapTes did previously carry stock in a warehouse in Europe, so hopefully this will improve in the near future. There is no import tax to pay with TapTes.
TapTes – Model 3 USB Pro Hub – Since my hub arrived, TapTes have released a new 'Pro' version of the hub with all data/power ports.
Jeda – Model 3 USB hub – Expect slow dispatch and literally days for Jeda to respond if you email them, you will also be subject to import duty (I believe this works out to be around £16).