From being a member of several Tesla related forums and Facebook groups, it seems there are a couple of really useful things that a lot of members don't know that would be of huge benefit to them. Here's some of Tesla's less known features that I've noticed often posted about;
Sharing a location from your phone to your Tesla
From either iPhone / iPad or Android devices that have the Tesla app installed (and signed in) you can share the destination you want to go to from your phone directly to your car. Once you get in your car, it will load the destination instantly without you having to do anything!
First, search out in your phones browser the location you want to go to, click the address that comes up in Google, it should now show you on a map where it is, with the option of sharing. Click Share, then choose the Tesla app (pics below).
Worth noting that you can do this whilst on the move in the car, obviously not using the phone whilst driving.
Sending YouTube links to the car
In a similar way to the above, you can share YouTube videos directly to the car. They can only be viewed whilst stationary but you might find it easier to find videos on your phone than the YouTube ES webpage!
Find the video you want to share, click the 3 dots next to the title (circled in blue on picture 1), click Share, click More, then share to the Tesla App
Siri has voice commands built in as part of the iOS app
That's right, without having to give a 3rd party app your credentials, you can use Siri to perform some basic functions on your Tesla. Here's a list of those Siri commands:
Start with either 'Hey Siri' or press and hold either the home or power button (depending on if you have a home button!) then say:
Lock my car
Unlock my car
Where is my car?
How much charge does my car have?
What is my cars state of charge?
What's left in my cars battery?
Do I need to charge my car?
Is my car locked?
Flash my cars headlights (you'll be promoted to confirm)
Flash the headlights on my car (you'll be promoted to confirm)
Honk the horn (you'll be promoted to confirm)
Activate my cars audible signals (you'll be promoted to confirm)
Headlight adjustment (Model 3)
No longer is adjusting the headlights on your car a task that ends up leaving you a bit grubby, you can do it all via the main screen in your Tesla Model 3.
Whilst in Park. Touch the Model 3 icon / controls icon on the touch screen > Service > Adjust Headlights.
Going into this menu made my headlights auto adjust downwards a touch and stopped other drivers flashing at me. You can now individually adjust the lights. Please note though, that there doesn't seem to be a factory reset of similar.
If you want to adjust your headlights properly, your best bet would be to ask very nicely at a friendly MOT garage if you can use the visual they have on a wall within the centre to adjust your lights to.
Formatting your SSD / Endurance SD card inside your Tesla (for Dashcam / Sentry mode)
No longer do you need to know your way around your Windows machine or Mac, you can now format the drive from inside the car.
For the guide on how to do it both ways: Preparing your SSD / Thumbdrive / Endurance SD card for Sentry mode / Dash cam
For a guide on what SSD / Endurance SD to get: Which SSD / Endurance SD / Thumbdrive for Tesla Sentry mode / Dash cam
Supercharger "urinal etiquette"
This is definitely something Tesla should tell you about! On V2 Superchargers (the 150kWh dual plug units), they are setup in pairs (A & B) that share power between the two units.
If someone is charging on an A unit and you plugin to a B unit, you will get a slow(er) charge rate and likely also affect the person also charging who was there first (it previously gave priority to the person charging first, but that seems to have changed).

So where possible, try and make sure to leave as space between you and other Tesla's Supercharging, that way you both get the best possible speed.
You can perform a 'soft' reboot whilst on the move
Should you need to perform a reboot whilst on the move (I had an issue the other day where no other cars, road markings etc.. were visible on the display), this is something you can do.
Even with the display off (no speedo, maps etc..), the car will still function as normal. The indicators work, but do not make the simulated relay noise.
Actively check for a software update
Even with 'Advanced' selected, for some reason you don't always get the app notification. If you go into the car, click on the car icon, select Software. The car will then check what's available, it'll either prompt you with an update or tell you that your car is up to date as of todays date and time.
Create a parking / reversing profile
Instead of having the mirrors set to auto dip on reverse, you can create a separate parking profile with the mirrors exactly where you would want them to see the curb, this was you only need to engage it when needed, rather than all the time.
To do this, make the adjustments to the mirrors that give you the best possible view of the curb, then save as a new profile called Parking or Reversing (whatever you like!). Then you can switch between you usual profile and your parking profile as and when you need it, meaning you can disable the auto dipping mirrors.
Open your charge port with the Supercharger handle
I'm guilty of this one.. when you pull up at a Supercharger, the button on the Supercharger handle will open your charge flap for you, rather than you having to do it in the car and get out.
Note, this only works on the Model 3 when it's awake.
Resync the clock
If you've changed time zones and the car hasn't updated the clock yet, taping the clock several times will force the clock to resync.
Press and drag media and climate controls
Instead of having to click into media player and drag it to position (full, medium, small or off screen) you can do it in one motion from the media icon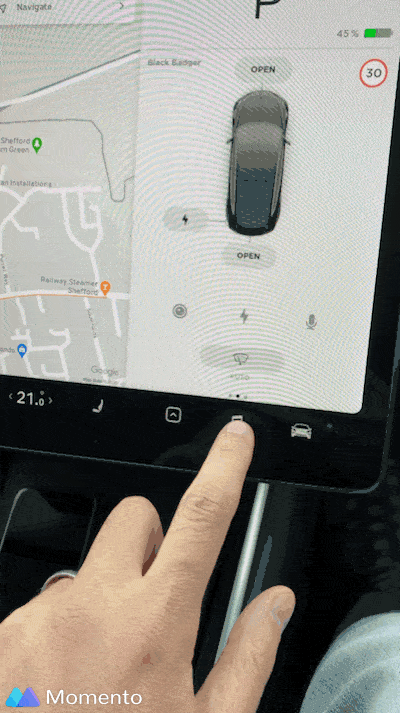 The same is possible with the climate levels, press on the number and drag left or right to decrease / increase the temperature as desired.